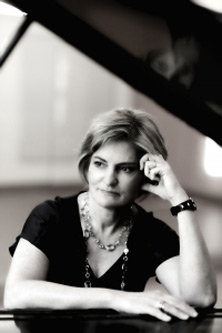 Dr. Benal Tanrısever Şimşek began her musical education with Prof. Ferdi Statzer at the İstanbul Conservatory. She received a scholarship to continue her work at The Juilliard School of Music, under the Joseph Raieff, a student of Sergei Rachmaninov. She became the first student to complete her undergraduate and graduate studies in four years. Following her outstanding achievement, she was accepted to the Professional Studies Program. She was nominated by the school to play at concerts in various cities in the U.S.A. She was awarded another outstanding achievement scholarship which took her to the Hochschule der Künste, in Berlin, where she worked with Prof. Georg Sava and earned yet another diploma, "Piano Virtuoso." She attended the Ph.D program at the Graphic Design Department of Bilkent University, earning her academic doctorate degree. Her doctoral dissertation "The Narrative Power of Music in Films" was used as reference material in many scientific researches.
Concerts around the world
She performed in recitals and played as soloist with orchestras in major concert halls around the world, including Carnegie Hall and Lincoln Center in New York, Berlin Philharmonic, Stuttgart Lieder Halle, Beethoven Haus in Bonn. She performed as a soloist with the Berlin Symphony Orchestra, New York Symphony Orchestra, Sibelius Symphony Orchestra, the Presidential Symphony Orchestra, İstanbul, İzmir, Çukurova State Symphony Orchestras, Bilkent Symphony Orchestra, Eskişehir Symphony Orchestra and Akbank Chamber Orchestra. She worked with esteemed conductors such as Gürer Aykal, Cem Mansur, Naci Özgüç, Urs Schneider and Gustav Neimann. She joined the Presidential Symphony Orchestra and their conductor Gürer Aykal for a concert tour in the U.S.A.
Awards, unique performances
She received the "Women of Outstanding Achievement Award" in the U.S.A. Her concert was broadcast live by 130 radio stations. She often included and premiered works by Turkish composers in her repertoire. Her personal life as a concert pianist from Turkey, coming from New York and living in Berlin was the subject of a documentary by The German television RIAS. Her achievemnts were regognized and written about in the German Encyclopaedia of Music. Her concert at the Nordic House in the Faroe Islands was broadcasted live on Nordic Television.
Under the auspices of the President, and the support of the Ministry of Culture, she was the first artist to perform other than conventional concert halls. She was a pioneer in organizing open-air classical music concert in the stone mines on the outskirts of Ankara. That was the first time where diverse audience from all backgrounds came together and listened to classical music. In the concept of concertising in unique venues, she performed with the Bilkent Symphony Orchestra on the pier of the Rahmi Koç Museum, in a benefit event for children with cancer, organized by the "Theodora Foundation".
As a music educator working with children
Her interest in working with children dates back to her student years. Sharing know how and experience was always a passion for her. She worked with Louise Behrend and Sheila Keats, founders of the New York School for Strings for many years, focusing on pedagogical music training and educational methods.
She later on realized that in order to make an impact on children's lives ,early encounter with them was necessary. She went back to New York and received training on pre-instrumental education and was fortunate to become one of the last students of world renowned music educator, Robert Abramson.
She continued to perform in concerts but always stayed active working with and for children. She was the creator and artistic director for 12 educational television series. She became a strong believer in utilizing music programs for less priveleged children and young adults by taking part in many social out-reach projects.
After living in New York, Berline and Copenhagen for 18 years, she retuened back to her home country, Turkey to become a faculty member at the Bilkent University Performing Arts in Ankara.
Founding BT Music and Performing Arts and becoming an advocate on behalf of music education
She describes playing an instrument as understanding, feeling and performing of music. Dr. Benal Tanrısever Şimşek returned to Istanbul in 1997 with a mission to communicate and share her experiences with everybody as of age 2 and up. With this intention in mind, she founded BT Music and Performing Arts. She created a philosophy and a methodogical approach in instrumental music education where the emphasis on ability and awareness rather than talent. Personal, social and academic growth of children were as important as their musical understanding. In order to support this approach she created method books and gave great importance to teacher training.
She initiated the "Cooperation in Music" program where she brought many distiguished schools in Istanbul, such as the ENKA Schools, Hisar Schools, SEV and TED Schools in Istanbul to form a gigantic symphonic orchestra for Spring Festival.
To increase interest and awareness for classical music, she created educational concert series, called "Fun Sundays" together with ENKA Cultural and Arts Foundation. Telling the fascinating lives and music of composers in for children and families with live concerts. The first concert of the series, where she performed the Piano Concerto by Mozart as an interactive performance became a great success.
"Classical Music Tales", the children's book series on the lives of famous composers, became best-sellers and won the "Most Creative Book" award of the year.
In 2002, she started to conduct " Summer Intensive" at the Juilliard School in New York. She designed the program to give young aspiring musicians an overall experience in music, theatre, singing, script writing and dance. Summer Intensive, participates in a community out reach program for ASTEP-Artists Striving to End Poverty for homeless women and children in New York, WIN.
A strong believer as an artist for social causes she has initiated many special programs for Tohum Autism, Losev- children with cancer, Izev- young adults with mental disabilities and Save the Children Foundation. She works with underpriveleged children in small villages or with special needs.
In 2017 she has been invited to be speaker on the panel for Association for International Education-AIE in Thailand.
She wanted to create a platform where international young talents could meet, interact and inspire each other. With this mission in mind, she was instrumental in founding the first "International Young Talent Music Competition" in Istanbul, 2015. The competition received support from ECMY-European Young Talent competition, IKSV-Istanbul Cultural Arts Foundation.
She now takes the competition to the next level where the first round of the competition will be made possible digitally, online. This will allow candidates to participate globally without having to travel. The finalists will compete in the final round in Istanbul. The 2016 competition will hold a Special category for those with special learning needs.
With strong determination to communicate the importance of music education for all ages she teaches, advocates on behalf of music education to create a music community for better understanding ourselves, our community. She is still actively working, sharing and creating projects with hopes to create a global community around music.